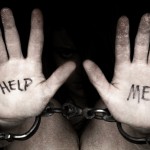 Below is the fourth letter in the series, "Letters To Dad." They are written by Sam Riviera, and are based on the true stories of people he actually knows in real life.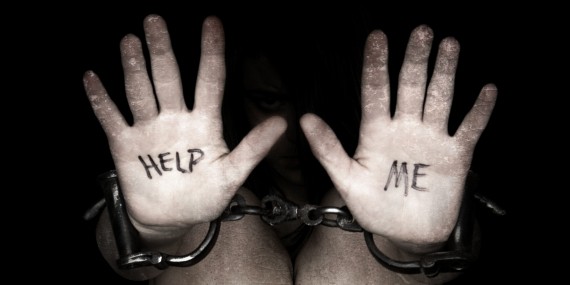 Dad,
I'm stupid. I was so wrong. I thought you and your rules were stupid. That's why I ran away. I thought I had everything all figured out and you were treating me like a baby with your rules. "Come straight home after school. We need to know where you are at all times. Don't try any drugs even if the kids at school give them to you. That stuff will ruin your life. You can't go to parties unless we know where you are and the parents are there. No parties with drugs or booze."
The first few nights I stayed at a friend's house. Her parents didn't know I was there. She snuck me into her bedroom through the window and I left the same way the next morning. She said we couldn't keep doing that.
I was hanging with some kids I didn't know near a liquor store. This guy a little older than me bought me some snacks, then he took me to a movie. After the movie he asked where he could drop me off. I told him I didn't care. He asked if I needed a place to stay and said I could stay at his sister's.
She was real nice to me for a couple of days. Then she told me she couldn't afford to let me live there forever. She said her friend could help me earn my way.
Her friend says he owns me. He says he owns all of the girls in our house. I don't know exactly where the house is, but I'm pretty sure it's somewhere in San Diego. When we leave, he puts us in the back of a van. We can't see out. He drops us off and then picks us up later in the van and takes us back to the house.
When we get back to the house, he locks up our clothes so we won't try to run away. Not that we have many clothes anyway. Only our working clothes.
This is going to make you so mad, but he's got us hooked on this stuff. Honest. I didn't know what it was. He said it would relax me. Now I really need it and he's my only way to get it.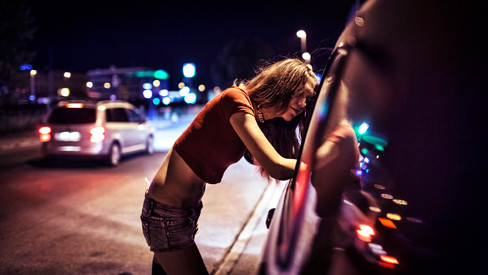 He makes LOTS of money off us, but we don't get to keep it. He makes thousands every week. That's how he can afford his car and jewelry. He doesn't stay here. He probably has a nice house somewhere, not like the dump where he keeps us. He pays a woman who looks like a truck to guard us in case we get any ideas about running off naked.
We get fed, but have nothing. They took our ID, clothes and everything else we had. I was lucky to find the paper to write this. If I'm really lucky I'll somehow find an envelope and a stamp. Maybe I can get a stamp from one of my customers and mail the letter.
Our guard buys the newspaper every day. If you can forgive me and still want me, put an ad in the lost and found pets section that says "Found. Blue eyed basset hound near the corner of" and list some street corner a couple of blocks north of El Cajon Blvd. about a mile east of the 805. My territory is not far from there. I'll try to walk to the corner in the ad. If I don't show between ten and midnight, try again until I show. It might take awhile for me to get a chance to make a run for it.
You won't recognize me, but I'll recognize you. Bring some of my clothes.
I heard there's a drug rehab place near uncle Glenn's. That would get me out of town. I can't ever come back here. They might find me. If I can make it through rehab I'll need to go somewhere else where they can't find me.
I'll find a way to pay you back for the rehab and the doctor. I need to be checked out. How could I be so stupid? I am so ashamed.
Lorene